Key Takeaways
Having the best TaylorMade irons in your club set can help you significantly improve your game play.
Like other clubs made by other brands, the best TaylorMade irons has its own strengths and weaknesses.
There are five great TaylorMade irons to consider if you're looking for the best one.
Since the 1970s, TaylorMade Golf has been developing, innovating, and manufacturing golf clubs for both professional and amateur golfers. Their commitment to creating the best Taylormade irons contributes to their incredible legacy, and the brand is far from finished.
Recently, the company developed technologies including Twist Face, SpeedFoam™, and Pure Roll™ inserts. Such innovations have enabled golfers to hit the ball farther at the golf course, as well as enjoy more forgiveness. 
In this article, we'll list the best Taylormade irons that are highly recommended for high-handicappers. 
Top Taylormade Irons for High Handicappers 
With the regular release of new TaylorMade golf clubs, getting a good deal on forgiving irons to bring down your handicap to the low teens has become easier.
Together with Callaway, Taylormade is one of the favorite choices for forgiving irons. Here's a summary list of the best TaylorMade irons for high handicappers: 
Taylormade Sim Max
Taylormade Sim 2 Max Irons Set
Taylormade STEALTH
Taylormade P790
Taylormade M6
So without further ado, let's look at some of these top golf irons specifically designed for players like yourself. 
Taylormade Sim Max
Features:
Forgiving Shape Design
Each club head is engineered to provide an unmatched combination of forgiveness, distance, and playability. They're designed with a large face area to promote stability and a wide-sole geometry for forgiving turf interaction.
Speed Bridge™ Technology
This innovative Speed Bridge technology effectively supports the iron's topline, unlocking explosive distance and forgiveness while improving sound and feel.
Speed Pocket™
This TaylorMade's patented technology is developed to maximize face flexibility for faster ball speeds and forgiveness on low-face shots.
ECHO® Damping System
Each iron is designed with energy channeling geometry to instantly minimize harsh vibrations upon impact and deliver a forged-like feel while maintaining face flexibility.
Ultra-Thin Face
Every TaylorMade iron has an ultra-thin 1.5mm face design with Progressive Inverted Cone Technology, which increases ball speed across the face while promoting a straighter ball flight, thanks to an improved sweet spot design. 
Progressive Inverted Cone Technology
Engineers gradually shifted inverted cone technology (ICT) towards the toe in both SIM Max and SIM Max OS to build draw bias in the longer golf irons and counter the usual right miss.
Low Center of Gravity
A wide-sole geometry, lightweight fluted hosel, 360° undercut, and ultra-thin face redistribute mass from the clubhead to the sole, resulting in a low and rearward CG and high, penetrating ball flight.
Pros
Extremely forgiving irons set
A stylish TaylorMade iron set with a thick top line
Offers great distance that can be a club longer than what you're used to 
Cons
Can't be had on a budget
The bulky 'speed bridge' may not be to everyone's liking
Offers limited shot workability. Without exerting effort, you can only expect to achieve high and straight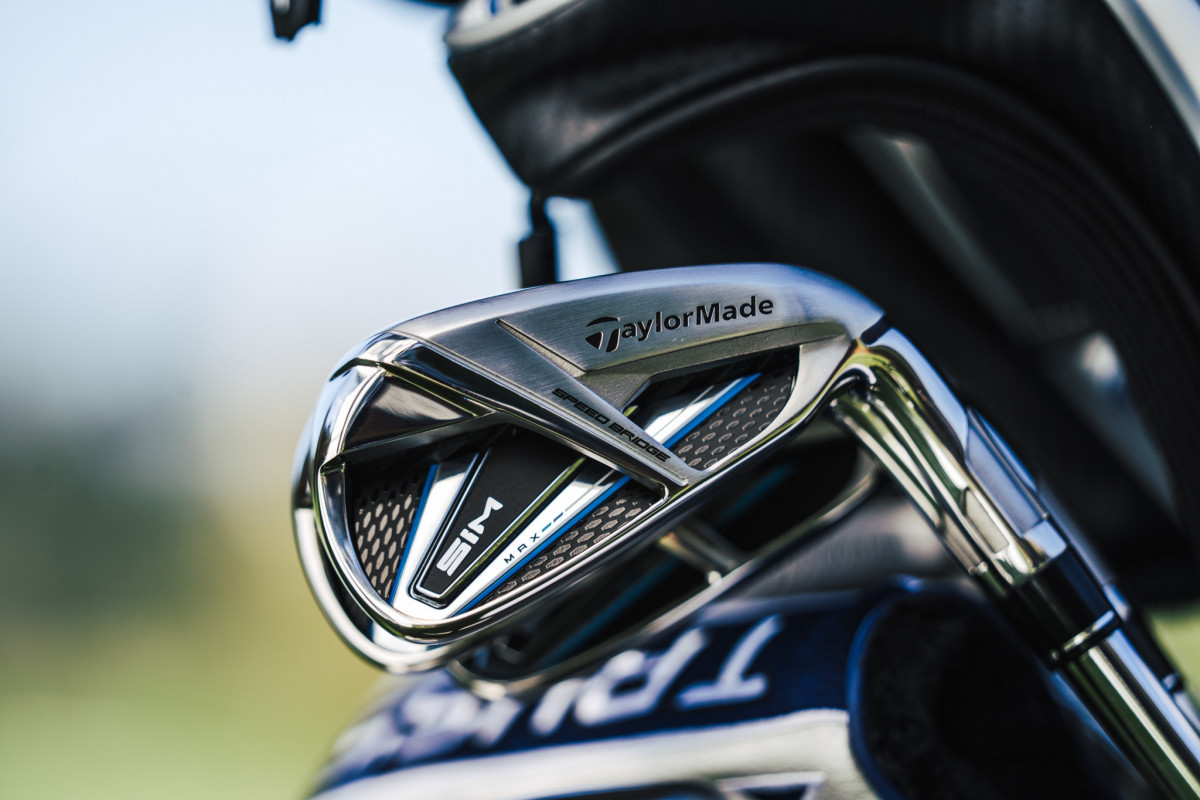 Brief Description
The Sim Max Irons are high-performance TaylorMade golf irons that are identical to the Sim Max 2 Irons.
In addition to being exceptionally long and forgiving, they also sound fantastic, thanks to the echo dampening technology, which provides you a flush feel and sound even on mishits.
Choosing between the original Sim Max Irons or the Sim2 versions? Their pricing and availability should help you decide. If you can get the original Sim Max irons for a little less than their Sim2 counterpart, they'd win the "better value for money" battle, in our opinion.
Taylormade Sim 2 Max Irons Set
Features:
Fast Forgiving Face with Progressive ICT
The SIM2 Max irons feature a fast and forgiving face that allows high-handicappers to perform better at the golf course when they need it the most. An enlarged sweet spot has been strategically placed to capture more shots across the clubface. Specifically engineered to approach the threshold of the legal limit, the new face design is fast, versatile, and extremely forgiving. 
Cap Back Design™
Cap Back Design supports the entire topline from heel to toe with an innovative multi-material construction. It's made of a lightweight polymer and provides stability within the topline and upper perimeter of the face, resulting in superior sound and an improved feel.
New ECHO® Damping System
The introduction of the Cap Back Design produced a full hollow body construction, paving the way for the improved ECHO® Damping System. A softer polymer blend and several contact points across the face of the fully encased system channel away harsh vibrations, producing a forged-like feel.
Thru-Slot Speed Pocket™
TaylorMade's revolutionary Thru-Slot Speed Pocket™ technology is designed to improve face flexibility for improved ball speed and exceptional forgiveness, even on mis-hits low on the face.
Low CoG
Several technologies, including a fluted hosel, 360° undercut, and an ultra-thin face, work together to deliver an ultra-low center of gravity tailored to generate a high penetrating ball flight. 
Pros
Oversized heads and a broad top-line promote extra confidence
Very deep cavity back for ultimate distance and forgiveness
Good strikes feel like butter in your hands, and get you very close to your target, even on mishits
Cons
The club head of the short irons appears to be very big
Irons aren't as effective in averting slices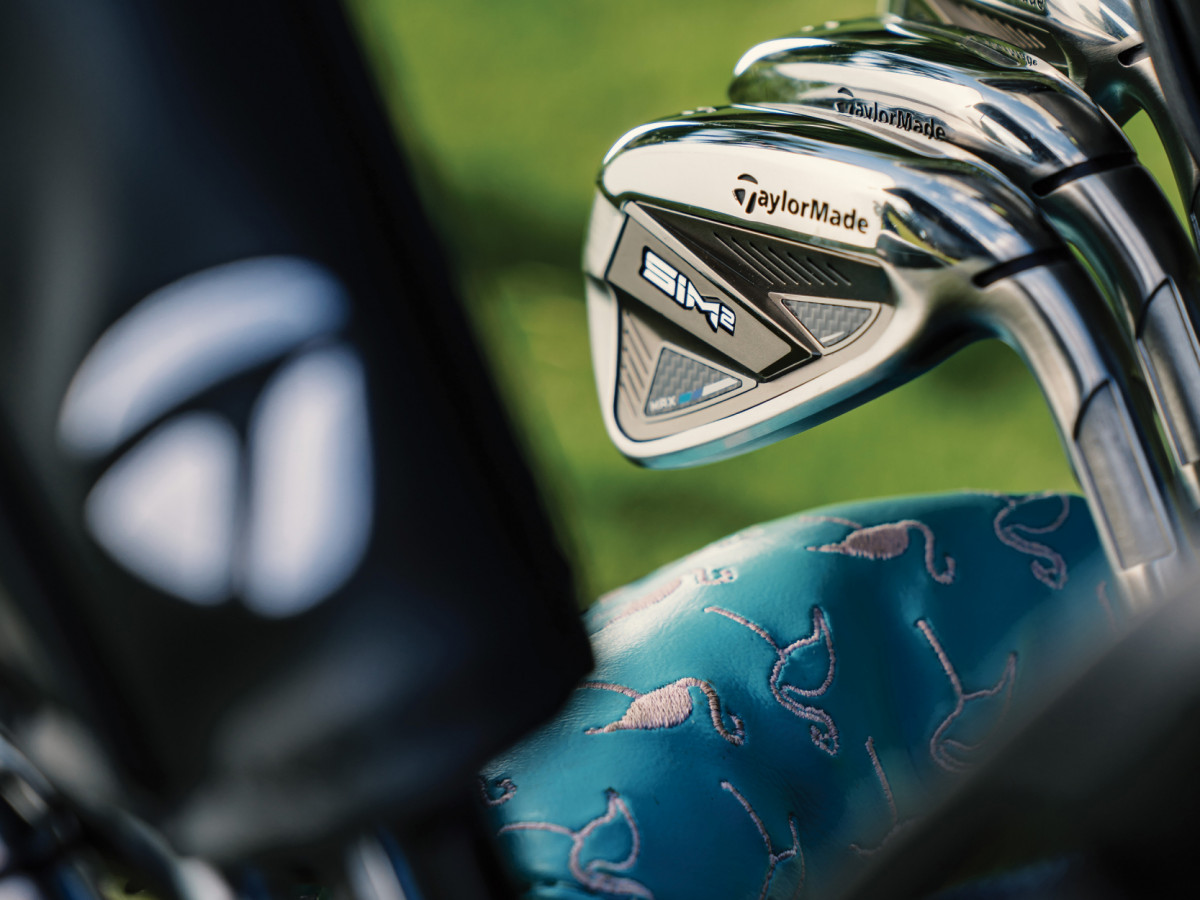 Brief Description
Like its predecessor the TaylorMade Sim Max, the SIM2 Max excels in the forgiveness department and by a mile. Considering the TaylorMade irons aren't extremely oversized, they do an excellent job of retaining ball speed on mishits and creating consistent launch angles and spin. Reliable ball speed, launch, and spin are some of the necessary elements for longer distances and better iron play.
This golf iron set is an excellent choice for high handicap golfers who don't want to use extremely oversized game improvement irons. TaylorMade SIM2 Max irons routinely deliver exceptional distance. When combined with a shaft that complements your swing, you'll be well on your way to hitting more greens in regulation.
Taylormade STEALTH
Features:
Thru-slot Speed Pocket
The frame of the Stealth irons is made of titanium, and the crown and sole are made from specialized Triaxial Carbon. The weight saved using these materials is distributed to other parts of the clubhead for increased forgiveness, improved launch, and a slight draw bias.
3D Cap Back Design
26 grams of tungsten weighting are placed low and deep in the head, effectively making each club more forgiving, thanks to a high moment of inertia (MOI) and increased ball speed on off-center hits.
Echo Dampening System
This technology ensures stability for increased speed across the face.
Progressive Inverted Cone Technology
Progressive ICT effectively reduces spin while increasing distance and forgiveness. Additionally, it aids in launching the ball faster and easier. 
Pros
One of the finest-looking Taylormade irons released recently
Delivers an excellent feel while holding the club
Some of the longest-hitting Taylormade irons on the market
Cons
Has a lower launch compared to other game improvement irons
Challenging to chip with the hot faces of lower irons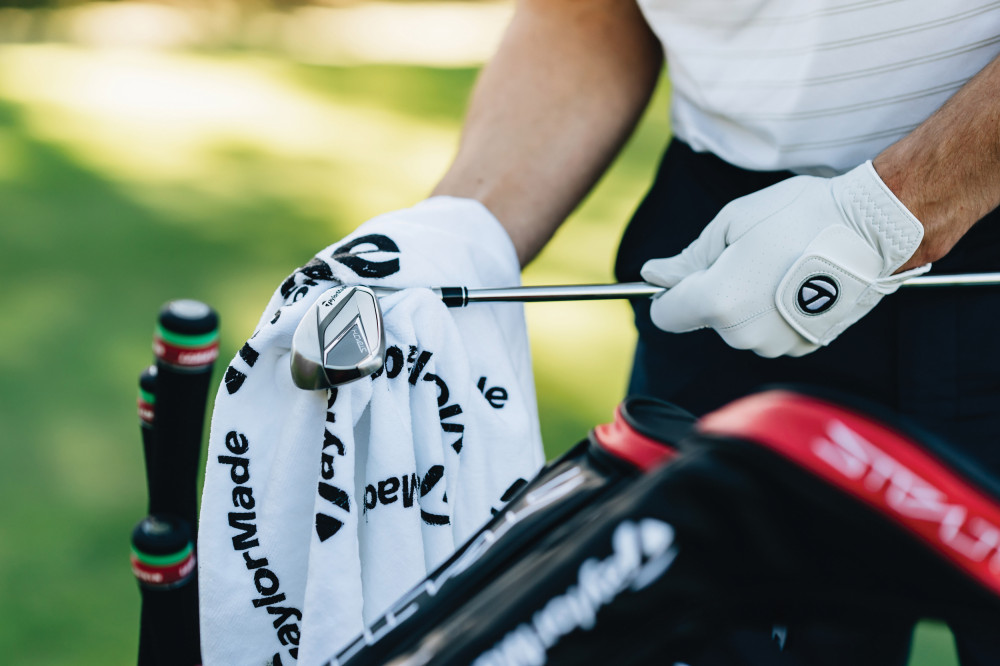 Brief Description
The TaylorMade Stealth irons are designed for golfers whose swing speed is less than 90mph with the driver. They're excellent quality irons that will provide a distance boost to keep up with the other players in your group.
If you have an older set of golf clubs already costing you distance, the Stealth irons will help you hit the ball farther. As with most game improvement irons, the lofts are strong, and the sole is big and wide for a smoother turf interaction.
Taylormade Stealth irons make the game loads more fun, even for the average golfer. Besides making it easier to get the ball into the air, they also look good sticking out of the top of your golf bag.
Taylormade P790
Features:
Thin-Wall Construction and Forged L Face
The 8620 carbon steel construction makes the head thinner by up to 37.5 percent throughout strategic areas, allowing for a substantially lower CG placement. This innovative thin-walled design combines with a responsive 1.5mm forged 4140 steel L-Face to provide superior flexibility, swift ball speeds, and distance while maintaining a premium forged feel.
Speedfoam™ Air 
The SpeedFoam™Air system weighs 69% less than its predecessors. It provides an average weight savings of 3.5g, which has been redistributed to further optimize mass qualities for much-improved launch conditions. The new design produces a fast, flexible face while generating exceptional sound and feel.
Intelligent Sweet Spot
Taylormade shifted the sweet spot lower on the face using data analytics to collect more shots naturally and improve performance when players need it the most.
Tungsten Mass for Low CG
Experts devised revolutionary construction methods to thin out the body, allowing for the placement of up to 31g of tungsten weighting in the toe. This design provides tremendous stability and forgiveness wrapped in a single package.
Thru-Slot Speed Pocket™
The Thru-Slot Speed Pocket™ increases face flexibility while preserving ball speed and distance on low-face strikes.
Pros
Feature a very sleek appearance
Mishit shots cover a greater distance than can be expected from other golf clubs
Generates long-range shots that fly for miles
Cons
Comes with a steep price tag
Can be loud upon impact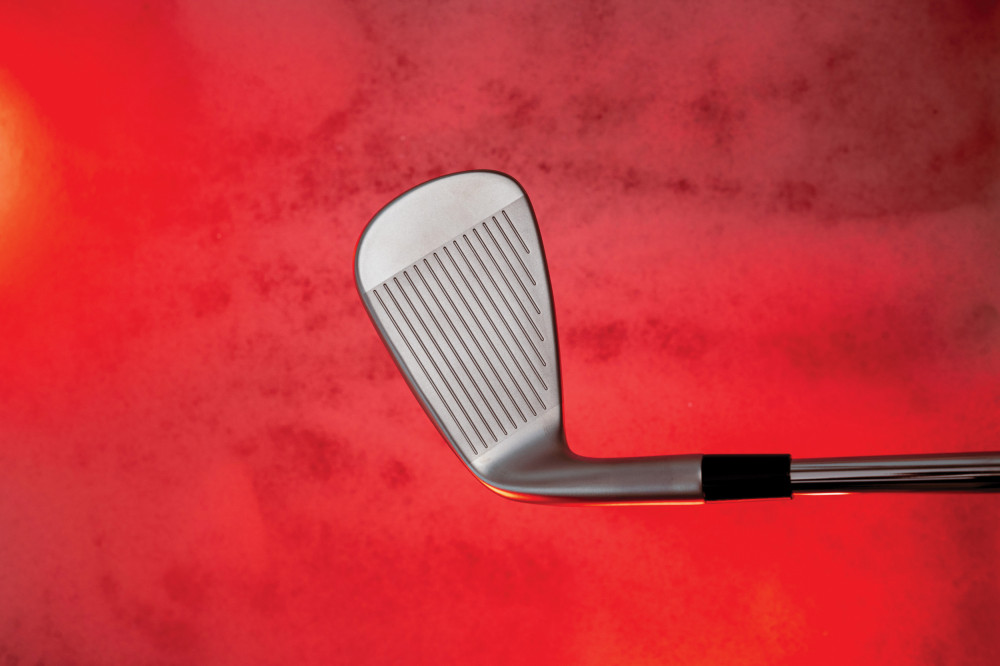 Brief Description
The P790 is the ultimate super game improvement iron. The best irons in the set include a hollow Speed Pocket behind the face that allows you to cover greater distances regardless of where you hit on the face.
Additionally, they feature a sweet spot that extends virtually to the entire groove area. Considering their clubhead is one of the largest around, that's a massive sweet spot to work on.  
The game improvement irons effectively raise the shot height and hit every single one a long way. The short irons rise swiftly, while the mid irons are so forgiving that you'll mistake them for wedges. Thanks to their thick sole and large club face, you can expect a terrific outcome every time. 
Suffice to say, the P790 is the golf iron set that high handicap golfers could ever wish for.
Taylormade M6
Features:
Increased Speed with SPEED BRIDGE™
The new Speed Bridge structure enables the use of Taylormade's most flexible thru-slot Speed Pocket, built to generate more ball speed than ever before.
Enhanced stiffness in the club head construction results in increased ball speeds due to the minimized energy loss upon impact.
An ultra-thin face design combined with Inverted Cone Technology (ICT) produces exceptional ball speeds over the entire face region.
HYBRAR Compression Damper for Improved Sound & Feel
The Speed Bridge supports the topline, reducing low-frequency vibrations for a more delightful sound upon impact.
Revolutionary HYBRAR compression damper effectively filters out unnecessary face vibrations, resulting in a soft and solid feel on all shots.
Off-Center ICT for Forgiveness and Playability
Patented off-center ICT enhances the sweet spot and produces straighter shots for golfers of all skill levels.
The fluted hosel and 360° undercut help lower CG to improve launch angle and ball speed, resulting in a strong, penetrating ball flight even on low-face impacts.
Pros
The game improvement iron set features a progressive CG throughout
They come equipped with comfortable Lamkin Dual Feel Reminder grips
Slightly more affordable than the Sim Max Irons
Highly suitable for women golfers
Cons
Not as many shaft options
Head sizes can be bigger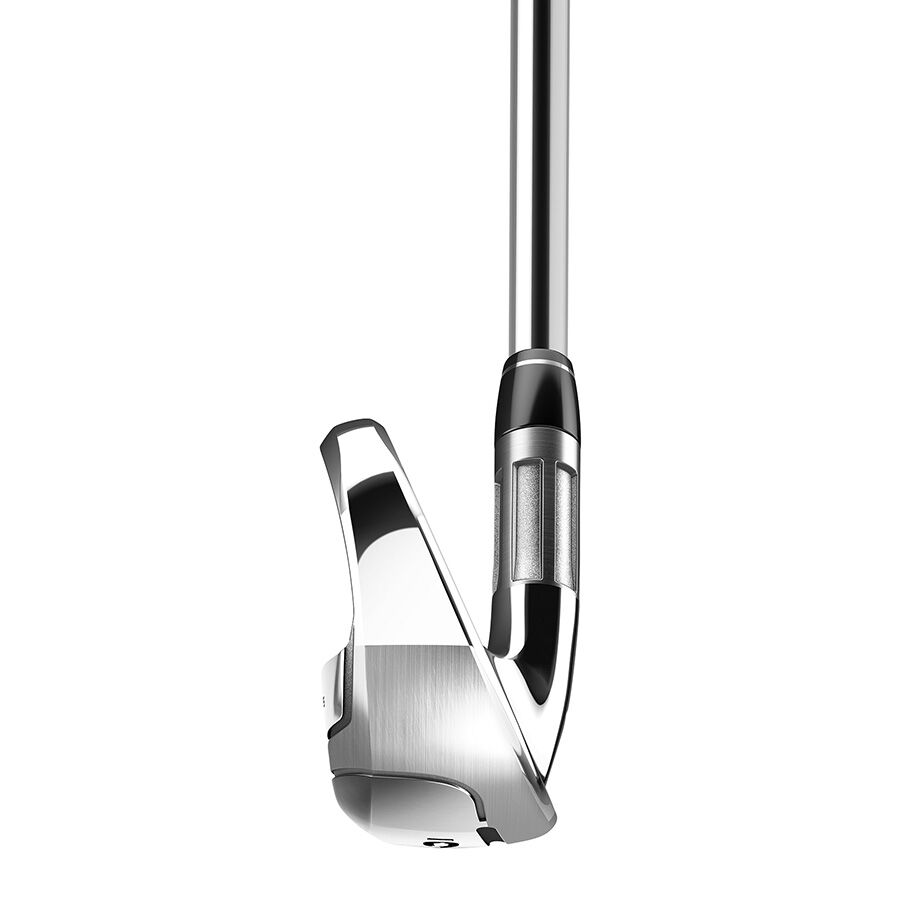 Brief Description
The TaylorMade M6 Iron Set is an explosively long iron that's built for primetime. The clubs are ideal for mid and high handicappers eager to progress into their next set of clubs. The M6 iron set not only produces tremendous launch and piercing flight but also provides an excellent feel and response. 
The Speed Bridge design on the back of the iron in the M6 set provides incredible speed to the golf balls. This technology binds and stiffens the face of the iron, which lowers vibration for a better feel and faster swing speed.
Frequently-Asked Questions
Why Should I Invest in Taylormade Irons?
Simply put, because they'll give you some of the best clubs you'll ever swing. As you can see above, the best TaylorMade irons are loaded with numerous features that can help you outperform your opponents. By adding them to your bag, you'll become quite a formidable player.
How Should I Clean my Taylormade Clubs?
To clean your Taylormade clubs, use a mild detergent, a damp cloth, and a soft nylon brush. Spending at least 5-10 minutes with them after each round will help keep your clubs looking like new. 
How Can I Find Replacement Grips that will Fit my Clubs? 
Taylormade does have a number of different grip options that fit their clubs. You may contact your local authorized retailer for assistance when placing a particular order for the grips if they don't have them in stock. Also, you may use the Retail Locator on the Taylormade website to find the nearest retail location in your area. 
What is RAC Technology? 
Taylormade refers to RAC technology as the "science of feel." RAC stands for Relative Amplitude Coefficient. It has been observed that many of today's clubs have a harsh, uncomfortable feel due to unregulated vibrations throughout the club. This technology directs energy away from the point of impact, resulting in a softer feel with a more powerful performance.
Add TaylorMade Clubs to Your Set
TaylorMade irons, similar to their drivers and fairways, utilize the same technology that enables a faster ball speed, higher launch and greater distance. Whether you like forged irons or not, the best TaylorMade irons for high handicappers provide you with an excellent feel that allows more control over golf ball flight.
Of all its excellent qualities, one that stands out is Taylormade's focus on the clubhead's rear just as much as the clubface. As a result, you can feel and hear the effects of double optimization when you play with the best TaylorMade irons. Also, you're treated to increased consistency upon impact, thanks to the improved stability on the back end of the clubhead. 
Truly, the power of control you'll achieve using the best Taylormade irons is exceptional, so much so that once you experience it, there's no looking back. 
Related Articles